About Us
Our Mission
To provide wealth accumulation, preservation, business succession and retirement planning strategies for affluent business owners and professionals.
To be the catalyst in the planning process.
To commit to developing strong, long-term relationships based on knowledge and integrity.
At Heritage Planners, we work with our clients' attorneys, accountants, trust officers and other financial advisors to better serve the needs of our clients. This collaborative approach gives our clients the most comprehensive service available.
When you work with Heritage Planners, you can rest assured that we will work with you to develop a mutually agreeable process for interacting with our shared clients. We know that every organization has different methods and preferences for how communication is handled, so we are flexible and adaptable in order to effectively meet the needs of our clients within a cohesive team environment. We will always maintain open lines of communication and keep you apprised of all developments.
We are a results-oriented firm, and we will deliver creative and effective solutions for your clients in the areas of business, estate, and succession planning. We invite you to explore our website to gain a clearer understanding of our team and the resources we bring to the table. If you have questions or would like to discuss a particular client that we may be of assistance with, please don't hesitate to contact us.
Our Team
Paul J. Haye, CLU®, ChFC®, AEP®
Principal
As the Founder and President of Heritage Planners, Paul has been helping families and businesses since 1981 with estate and retirement planning, business succession, investments, life insurance, and asset protection. He works with clients to help them identify where they are today, where they want to be tomorrow, and the various ways to accomplish their goals.
Paul is truly concerned about each of his clients and tries to put himself in their situation and formulate the best possible plan to achieve their financial objectives. He has aligned himself with a great network of business professionals including attorneys, CPAs, and other investment advisors, and offers a great product line backed by the financial strength of New York Life. He has also been a member of the Chairman's Council at New York Life for the past 18 years as of 2018. Paul has unparalleled strategic alliances, both on the investment and the planning sides, that provides the best possible customer service experience for his clients. Licensed in 24 states, Paul serves clients throughout the country with vigilant dedication. He holds Series 6, 63, and 22 licenses.
Prior to starting his career with New York Life and founding Heritage Planners, Paul attended the University of Toledo and graduated from the American College in 1994 and went on to receive professional designations of CLU®, ChFC® and AEP®. Paul is happily married to his wife, Ruth, and together they have three beautiful children, Mark, Timothy, and Jennifer. When he is not at work, Paul loves to race automobiles and motorcycles, build hot rods, and also likes to hunt, fish, and work outdoors.
Timothy J. Haye
Financial Services Representative
Growing up watching his father build Heritage Planners from the humble beginnings of a small basement office to a prominent firm in the industry has been instrumental in preparing Tim with the discipline necessary to take clients from where they are today to where they want to be tomorrow.
Surrounded by a large family of successful entrepreneurs, Tim has spent the majority of his life aspiring to run the firm with his father; but at Heritage Planners everything is earned not given. After graduating from The University of Toledo with a bachelor's degree in Marketing and Finance, Paul made it clear Tim needed to branch out on his own and pave his own way before earning the opportunity with Heritage Planners. Tim went into an executive leadership role for a large retailer earning several promotion opportunities, eventually leading to the responsibility of 1000+ employees and upwards of 1 billion in sales annually. At the same time Tim went back to school in the evenings and earned his M.B.A. from The University of Toledo specializing in Investment Management. He holds Series 7 and 63 licenses.
Over a decade spent in executive leadership roles learning what business owners need to be successful, a decade of advanced schooling focused on finance and investment planning, as well as a lifetime of watching what it takes to ensure clients are served day in and day out, has positioned Tim perfectly to expand offices outside of Northwest Ohio.
Tim is happily married to his wife, Tara, a very loving mother of their son Isaac and the support system Tim turns to time and again for advice and guidance, both personally and professionally. Tim loves automobile racing, sports, time with family, and hasn't stopped his educational pursuits.
Louis W. Fahrbach
Financial Planner
Coming to Heritage Planners, Louis has made it a focus to help families and business owners with estate and retirement planning, investments, and asset allocation. He works to clarify concerns and objectives, as well as provide a clear analysis and projection of personal and business financial information.
Louis has earned numerous industry and company awards. He is a current member of the Million Dollar Round Table and has been a member of the Executive Council at New York Life for the past 3 years as of 2017. He holds Series 6, 7, and 66 licenses. He is a member of the National Association of Insurance and Financial Advisors(NAIFA). In addition, Louis is the President of the Toledo General Office Agent Advisory Board.
Prior to starting his career with Heritage Planners, Louis received a Bachelor in Business Administration from Tiffin University. He currently resides in Northwood, Ohio where he holds a position as Council President of Northwood City Council. Outside of work Louis enjoys spending time at Michigan football games with his wife Robin, playing golf, and taking their dog Trooper to the park.
Donna Pribe, LSA
Marketing and Compliance Manager
Donna has been with Heritage Planners since 2012 and is responsible for the firm's marketing efforts, including expanding Paul Haye's social media presence, and ensuring profiles and marketing content are compliant to corporate standards. She also manages HR functions, accounting operations in the organization, and provides client services as needed as a Licensed Service Assistant. Donna enjoys the variety of assignments offered at Heritage Planners and helping to resolve any issues that may arise.
Donna came to Heritage Planners after a successful career in the automobile industry, and she holds an M.B.A. from The University of Toledo in Marketing and Finance. When she is not at work, Donna loves to spend time with her husband and three adult children. She enjoys sailing on their Beneteau, traveling, going to concerts, movies, and shows, and visiting new restaurants. She also loves to read and discuss current events and business news with her friends and peers.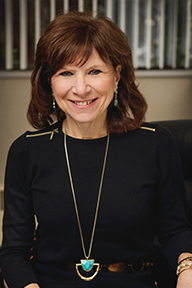 Ruth A Haye, FLMI, CLU®, PCS
Administrative Manager
Ruth joins the Heritage Planners team after serving New York Life as a Service Professional Leader for more than three decades. She had been responsible for administrative operations, special projects and development of service staff to perform with a client focused mindset. She brings a wealth of experience to the team, and looks forward to providing a great experience for Heritage Planner's clients. She holds multiple professional designations including FLMI (Fellow of the Life Management Institute), CLU® (Chartered Life Underwriter) and PCS (Professional Customer Service) and earned her BA from Muskingum University. Her interests include projects with husband Paul on their Perrysburg residential property, family time, travel, music, and recreation.
Robin Fahrbach, LSA
Office Coordinator
Robin Fahrbach has been in client services for over 3 years and became a part of the Heritage Planners team in 2017. As a Licensed Service Assistant, Robin is able to offer her expertise to clients through a variety of their everyday financial needs.
What she loves most about this career: "There is something so exciting about an individual or family who finds financial freedom and can feel at peace about the planning they have done."
In her free time, Robin enjoys going on adventures with her husband Louis and their dog Trooper, working out, reading, playing and coaching volleyball, and spending time with friends and family. She is an active member at her church and is involved in the Children and Music Ministries. Something that brings Robin joy in life is to be a light to someone every day because you never know what the power of a smile can do for that person.
Lauren Przybylski, LSA
Executive Assistant
Lauren Przybylski is an Executive Assistant with Heritage Planners and has been with the company since August of 2016. Within her role, Lauren obtains client information, schedules appointments, answers phone calls and emails, and keeps the office running smoothly.
Lauren finds fulfillment in her career because of the company's values and principles and the way in which Heritage Planners takes care of their clients. Lauren has a thirst for knowledge and is passionate about learning more about the industry that she is now a part of. She has two children, Carson and Charleigh, and when she is not at work, she enjoys spending time with them and teaching dance at a local studio.
Harmony Arp
Client Service Coordinator
Harmony is our Client Service Coordinator here at Heritage Planners, and joined the team in 2018. Her primary responsibility is to update clients' accounts to reflect their life changes and future financial goals.
The personal aspect of Heritage Planners is what Harmony loves most, which allows her to treat every client like a true friend. Harmony's love for people is reflected in her performance at Heritage Planners.
Harmony has a wide range of interests and hobbies, including Sign Language, music, extreme sports, and wilderness camping. She is also involved in her local church and enjoys serving in the youth and music ministries.
Designation & Affiliations
Chartered Life Underwriter (CLU®)
Since 1927, the CLU® has been the respected risk management credential for advisors. Designees have completed eight or more college-level courses representing an average study time of 400 hours. Topics for required courses include insurance and financial planning, life insurance law, estate planning, and planning for business owners and professionals. Elective courses include such advanced topics as income taxes, group benefits, retirement planning, and health insurance. CLU® designees must meet experience and continuing education requirements and must adhere to a high ethical standard. The mark is awarded by The American College, a non-profit educator with the top level of academic accreditation.
Chartered Financial Consultant (ChFC®)
The ChFC® designation has been a mark of excellence for almost thirty years and currently requires nine college-level courses, the most of any financial planning credential. Average study time to earn the ChFC® exceeds 450 hours. Required courses cover extensive education and application training in financial planning, income taxation, investments, and estate and retirement planning. Additional electives are chosen from such topics as macroeconomics, financial decisions for retirement, and executive compensation. ChFC® designees must meet experience requirements and adhere to continuing education and ethical standards. The credential is awarded by The American College, a non-profit educator founded in 1927 and the highest level of academic accreditation.
AEP®
The AEP® designation is a graduate-level specialization in estate planning, obtained in addition to already recognized professional credentials within the various disciplines of estate planning who support the team concept of estate planning. It is awarded to estate planning professionals who meet stringent requirements of experience, knowledge, education, professional reputation, and character.
This information provided by The American College as a public service.
Industry Involvement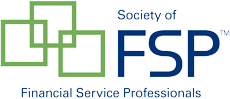 Society of Finance Professionals (FSP)
Paul J. Haye has been a member of the Society of Finance Professionals (FSP) in Toledo since 2007. FSP uses resources and knowledge to help members build networks, enhance their knowledge, and grow their practices. Their mission is to "empower our members to deliver the highest level of ethical service to their clients, by promoting mutually beneficial multidisciplinary relationships and by providing high-level, top-quality educational opportunities in conjunction with industry experts and thought-leaders."
Information Source: FSP Website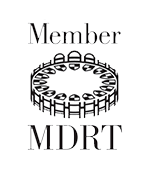 Million Dollar Round Table (MDRT)
Paul J. Haye has been a Qualifying Member of the Million Dollar Round Table (MDRT) throughout his tenure as an agent and in the last 13 years has been a qualifier of the Court of the Table. Founded in 1927, the Million Dollar Round Table (MDRT), The Premier Association of Financial Professionals®, is a global, independent association of more than 43,000 of the world's leading life insurance and financial services professionals from more than 500 companies in 67 countries. MDRT members demonstrate exceptional professional knowledge, strict ethical conduct and outstanding client service. MDRT membership is recognized internationally as the standard of excellence for life insurance sales performance in the life insurance and financial services business.
Information Source: MDRT Website

National Association of Insurance and Financial Advisors (NAIFA)
Paul J. Haye has been a member since 1981 and has been a consistent recipient of NAIFA's National Quality Award—16 years in 2016, and has received NAIFA's National Sales Achievement Award three times. The National Association of Insurance and Financial Advisors (NAIFA) was founded in 1890 as The National Association of Life Underwriters (NALU), NAIFA is one of the nation's largest associations representing the interests of insurance professionals from every Congressional district in the United States. NAIFA members assist consumers by focusing their practices on one or more of the following: life insurance and annuities, health insurance and employee benefits, multiline, and financial advising and investments. NAIFA's mission is to advocate for a positive legislative and regulatory environment, enhance business and professional skills, and promote the ethical conduct of its members.
Information Source: NAIFA Website
NAIFA Code of Ethics
Helping my clients protect their assets and establish financial security, independence and economic freedom for themselves and those they care about is a noble endeavor and deserves my promise to support high standards of integrity, trust and professionalism throughout my career as an insurance and financial professional. With these principles as a foundation, I freely accept the following obligations:
To help maintain my clients' confidence and protect their right to privacy.
To work diligently to satisfy the needs of my clients.
To present, accurately and honestly, all facts essential to my clients' financial decisions.
To render timely and proper service to my client and ultimately their beneficiaries.
To continually enhance professionalism by developing my skills and increasing my knowledge through education.
To obey the letter and spirit of all laws and regulations which govern my profession.
To conduct all business dealings in a manner which would reflect favorably on NAIFA and my profession.
To cooperate with others whose service best promote the interests of my clients.
To protect the financial interests of my clients, their financial products and my profession, through political advocacy.
Our Process
We understand the things that are important to you. And our relationship with you and the process for securing your family's future begins right there. At Heritage Planners, we put not only our own considerable experience to work on your behalf, but also the knowledge of the elite team of The Nautilus Group®, experienced professionals with disciplines in taxes, law, life insurance, accounting, and philanthropic planning. This coordinated approach helps ensure that all areas are considered in order to formulate the right course of action for you.
Our 7 Step Process:
Step 1 - Clarify your concerns and objectives
Step 2 - Provide a clear analysis and projection of your personal and business financial information
Step 3 - Explore possible strategies to achieve your goals
Step 4 - Collaborate with your circle of advisors
Step 5 - Implement and follow up with your plan
Step 6 - Create a summary of your plan and monitor it over time
Step 7 - We'll work closely with you and your family to prepare your heirs to continue the family legacy.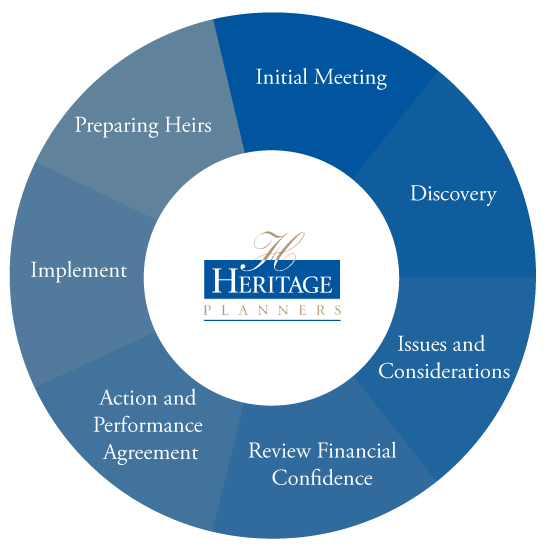 Where We Do Business
The blue states below indicate where we are currently licensed and working with clients. If your state is not blue and you'd like to work with us anyway, it's not a problem. Simply contact us for more information.